Nikki & Thomas
"Bethany is an amazing photographer! She did both our engagement and wedding photos. We could not have chosen a better person! She was not only a photographer- she was everything I needed on my special day! She helped out with everything she could and was very efficient. I told Bethany exactly what I wanted and she was able to make it happen. Thomas and I felt very comfortable with her. She scoped out all the great places to take pictures beforehand, so when we went to take our pictures on our wedding day, she had a plan and we wasted no time. Although our ceremony was supposed to be outdoors, it rained and Bethany was able to make quick adjustments and our photos still turned out to be completely stunning. We were extremely pleased with Bethany Grace Photography. Our pictures were amazing and we will always be able to affectionately look back on our special day, thanks to her amazing photography skills!
Reecie & Aaron
"We highly recommend Bethany Grace Photography! Bethany is not only an incredibly skilled photographer, but she is also extremely professional, and above all, it was a joy to work with her. She was receptive to our ideas and wishes, and very flexible with the flow of the wedding and celebration. We should also add that Bethany flew out to Oregon to photograph our wedding, so don't rule her out based on distance!"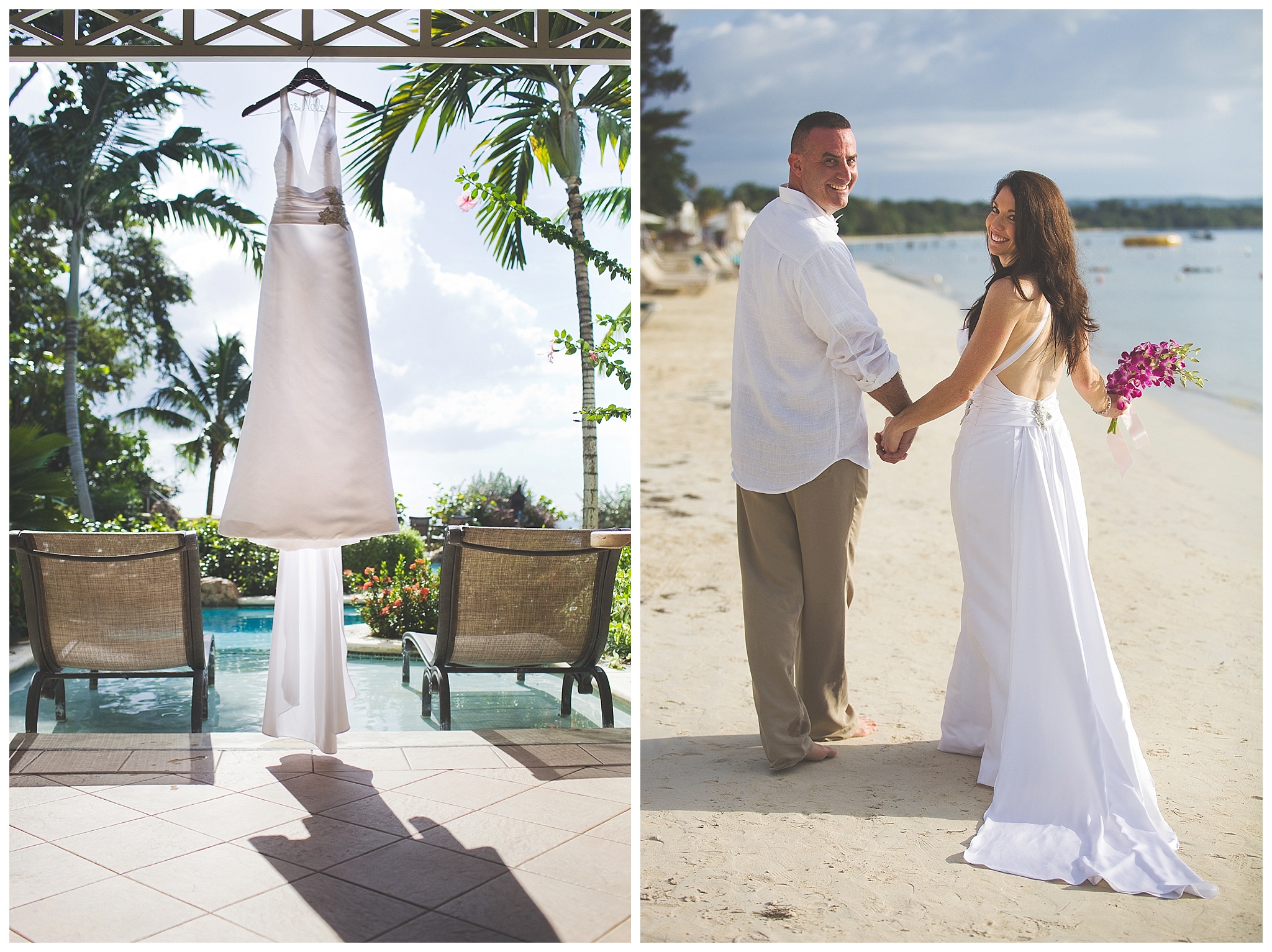 Laura & Mark
"I contacted Bethany Grace Photography, because I had seen pictures of a wedding she shot in Montego Bay and I knew I wanted her to shoot my engagement and destination wedding! She perfectly captured my husband and me on the beach for our casual engagement shots. She had us pose in many fun ways, and was very open to ideas we had as well. We got some incredible pictures that family and friends loved receiving.

Our wedding was in Negril, Jamaica and it was wonderful. The goal was for everyone to be relaxed and have a great time. Bethany made sure that even though she was taking professional pictures, it didn't feel stuffy. We weren't bored standing around waiting and we were all laughing and having a fun time while she was shooting. We got married right on the beach with the sun behind us, and we were so thankful to have her shooting during the ceremony, since nobody else's pictures turned out due to glare. After we had taken all the formal shots we wanted, we did a fun "trash the dress" session where we laid down in the water, then waded in and had the dress flowing around us. I'm not sure how many pictures she took of us, but we loved every single one, and there were hundreds! She has a fantastic eye for detail and the light she captures in each picture is stunning.

I would highly recommend Bethany Grace Photography to anyone. She's very professional, is able to capture amazing pictures both posed and candid, and she's very easy going and willing to work with people to get the shots they want!"
Lindsay & Taylor
"Thank you for having an artist's eye and a business-woman's professional demeanor. Your photos were universally praised by all of our friends and family and we will be sure to make sure they know your name."
Tony & Diana
"Very easy to work with. I used her to capture my proposal. She was stealthy as a ninja. My now fiancee had no idea we were being photographed for nearly an hour before the actual proposal! Bethany has a great eye and she did an amazing job capturing our special day! Most photographers only give you a handful of photos but Bethany gave us nearly all of the photos, leaving out only the bad ones. She really is an outstanding value! Oh yeah, and she traveled to the Philadelphia area from Virginia too! She is awesome!"
Kate & Ben
"Working with Bethany was incredibly easy. She got to our neighborhood early, scoped out some great places for photos, and got straight to work. My fiancé and I felt very at ease with her. She knew what she wanted and she got it without being pushy.

Based on our sneak-peak photo and the session itself, I'd highly recommend Bethany to anyone in need of a photographer."
Shelitta & Freddie
"Bethany is extremely professional and accommodating. We definitely can relive our wedding by viewing our beautiful photos because she captured every moment. We loved working with Bethany and would definitely use her again."
Christine & Brittany
"Hand down, the most talented, fun, and easy to work with photographer ever!!

I chose Bethany because I loved her portfolio of photos and she had taken photos previously of a proposal. Working with her was fun and easy from the very start- she helped me pick out a location to propose, and did a great job of being inconspicuous while taking photos of me proposing to my girlfriend. After the proposal, she took some more photos of us and did a great job guiding us on what to do. We loved the way the photos came out and definitely plan on hiring her again for our wedding!!"
Josh & Vickie
"Bethany was Absolute Amazing! She shot my new fiance and I's proposal pictures, candidly I might add. She was very fun and down to earth. She knew exactly the poses she wanted us to do and knew how to make it flow and interactive instead of static and staged. HIRE HER!!!"
Katie & Don
"Bethany was lovely to work with. My fiance and I both appreciated how personable she was throughout the session. We both felt relaxed and able to be ourselves. And, as we both love hiking, she was willing to trek through the woods to get some of our favorite shots.

The photographs we received were lovely - all high quality and ones we are proud to show off to our friends and family. I highly recommend Bethany as a photographer!"
"Bethany is the most accommodating photographer I have ever had the pleasure of working with. We went into our engagement session without a single idea for photos. We went to the locations Bethany chose and trusted her vision for our session. The photos were gorgeous and better than we could have ever imagined. Our wedding rolled around and Pinterest got the best of me and I had some "must have" photo ideas. Bethany mixed in my wishes with her ideas. While my "must haves" turned out beautifully, my favorite shots from the day were all Bethany's ideas. She truly has a gift and a unique style you will not get anywhere else. Your wedding day is over before you know it, but Bethany captures the most amazing photos of those cherished moments while accommodating all of your ideas. I stressed to Bethany how important it was to keep the after wedding photos short and sweet. She was so organized, that we ended up getting even more shots than planned in less time without sacrificing the truly breathtaking shots. Bethany Grace Photography was the perfect fit for capturing our special day and I highly recommend her for capturing yours!"
Alyson & Tyler
"Bethany photographed my Engagement Portraits and also my Bridal Portraits. For my Bridal Portraits, we had a blast - I even laid in surf! The portraits were unbelievable and I've never felt so beautiful.

For our Engagement session, Bethany made everything very personal. My husband is a huge Coca-cola fan, so Bethany took us to a quaint coffee shop, bought us two glass bottles of Coke and incorporated them into our session. We had a fun time - which is a big deal because my husband really hates having his picture taken. Our portraits are currently hanging on our wall and when people come over, we always get compliments!

If you book with Bethany you are guaranteed professionalism, beautiful portraits and a memorable time. I highly recommend Bethany!"
Greeshma & Rineet
"Bethany is an amazing photographer! She is extremely flexible, professional, and patient person, and does an amazing job at capturing special moments. You can tell she really loves what she does and really works with you to make sure the pictures and album are what you are hoping for. I would highly recommend her for any event that you need a photographer for."
Taylor & Tristan
"After almost a full year since my wedding, I still look at my wedding pictures once a week! I know that may seem like a lot, but I can't get enough of remembering how beautiful that day was and Bethany Grace captured it beautifully. We will cherish our wedding pictures for many more years to come!"